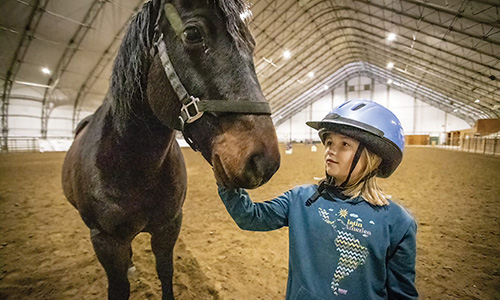 Since the Ranch opened in 1957, kids in the residential therapy program have always been able to enjoy horseback riding, and in 2005, Equine Therapy was added.
YBGR uses the EAGALA therapy model to work directly with horses and children at the Ranch to provide healing and support to emotionally disturbed youth
EAGALA helps youth by using their own instincts to engage the horses in various activities and challenges.
YBGR continues to offer recreational riding to residential children which allows the children to experience the simple joy of riding a horse.  In addition, learning about basic care and maintenance of the animals is another skill youth can use even after leaving the Ranch.
The Equestrian Program and Equine Therapy are made possible by our generous donors, from purchasing horses when needed to caring for the horses health to ongoing training of staff.