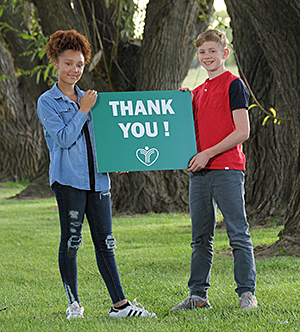 We want to share with you what your gift accomplishes in the daily life of YBGR kids.
Your gift provides meals, clothing, school supplies, and so much more that our boys and girls require every day.
What's the day in the life of a YBGR kid? Let us show you a typical Daily Roadmap of Life at Yellowstone Boys and Girls Ranch:
6:45 AM –  It's a New Day! Wake up, wash Up, and make your bed.
7:30 AM – A nutritious breakfast is vital to staying alert and feeling good.
8:00 AM – Household chores – keep your lodges looking good.
8:30 AM – Attend morning classes at Yellowstone Academy.
11:45 PM – Lunch and recess to prepare for afternoon activities.
1:00 PM – Personalized therapeutic counseling.
1:45 PM – Attend afternoon classes at Yellowstone Academy.
3:00 PM – Homework.
5:30 PM – Supper in the Dining Hall.
6:15 PM – Clean up from supper.
6:45 PM – Free time for swimming, basketball, bowling and more at the rec center.
8:00 PM – Snack Time.
9:00 PM – Shower and gather up laundry.
9:30 PM – Lights out. Time to rest up for another productive day.