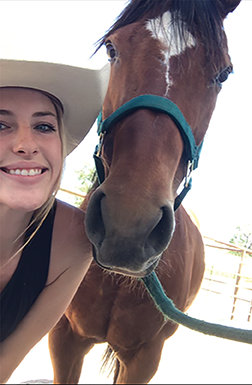 Mackenzie Martinson has been the Equestrian Specialist at YBGR since 2019. 
Mackenzie has a bachelor's degree in psychology from Dallas Baptist University and studied Equine Therapy for two years at Rocky Mountain College in Billings.  Mackenzie is certified in the EAGALA therapy model.
The EAGALA therapy model uses horses to provide healing and support to emotionally troubled youth.  EAGALA therapy helps youth use their own instincts to engage the horses in various activities or challenges.  
The goal of the program is to help children problem solve and find solutions to the challenges they are facing in their young lives.
Mackenzie also oversees recreational riding at the Equestrian Center which allows YBGR youth to experience the simple joy of riding a horse.  Boys and girls learn about the basic care and handling of the horses which offers yet another skill they can use even after leaving the Ranch.