Ahhhhh . . . . the Holidays.  A time to celebrate and reflect on the birth of Jesus.  A time for festive parties, colorful Christmas trees, family gatherings, gifts, and treasured traditions.
Not so much for Tyler.  For him, Christmas was just another day of chaos, anger, rejection and neglect.  The State placed Tyler in foster care at the age of 6 and he cycled through numerous foster and group homes.  Then at age 13, Tyler's social worker placed him at Yellowstone Boys and Girls Ranch. 
Arriving in July of last year, Tyler says, "I was a little more willing to make things work at YBGR, especially since I could do so many of the things that I love to do outside, like hiking, fishing and riding the horses."
As Christmas approached, a counsellor in Tyler's lodge announced that they would all be going to town to shop at a local department store for Christmas gifts for themselves.  Thanks to a small handful of Yellowstone donors, the annual Secret Santa shopping spree has become a beloved tradition.  Tyler and his lodge-mates were given a budget and allowed to pick out several items of new clothing – something Tyler had never done before.  He said, "I picked out new clothes that I actually liked and that weren't hand-me-downs!"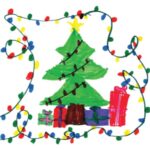 Volunteers then wrapped the gifts, which the kids gleefully tore into on Christmas morning.  After a special Chapel service, the kids had a wonderful Holiday Dinner and spent the rest of the day sledding and playing games.  They even had a pizza party on New Year's Eve, thanks again to one of Yellowstone's special donors.
Tyler has done well in his treatment since last Christmas, and he expects to discharge to a new foster family soon.  "I'm going to try really hard with with my new foster family and have a Christmas as fun as the one I had last year at the Ranch,"  said Tyler.  What a difference a year can make!
Tyler's memories of feeling love, acceptance, and the simply joys of Christmas are made possible by Yellowstone's donor friends like you.  Only through your support can the Ranch continue to provide all of the "extras" that make it the special and unique place that it is.  Sadly, we recently one of our faithful Secret Santa donors passed away and $10,000 is needed to continue this year's program.