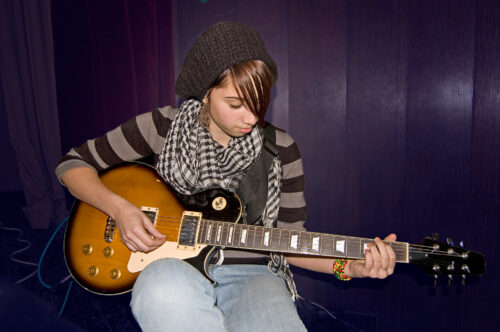 Carlee felt lost and hopeless when she entered YBGR in the winter of 2022.  Her struggles with mental health issues had led to bullying at school.  She had given up on her music and felt that she didn't have a future. After arriving at YBGR, Carlee started working with Audrey, one of YBGR's therapists, and together they worked on processing Carlee's trauma and challenges.  She also started classes at Yellowstone Academy (YA), the fully accredited K-12 school on YBGR's campus, which included a music class.
Before coming to YBGR, Carlee had played the upright bass, but at YA, she learned to rock on the electric bass and fell in love with music again. She worked with Audrey to start a campus-wide group therapy talent show, and Carlee and her band also performed at the YA Talent show at the end of the school year.  They brought down the house! Carlee was able to go home before the start of her senior year, and while she had a little bit of a rocky transition, she quickly hit her stride and graduated in May of 2023.  Carlee is now a freshman in college and still keeps in touch with Audrey.  Best of luck, Carlee!!
*For the privacy of the youth served at the Ranch, names have been changed. Image(s) shown here are a representation of those served at the Ranch.