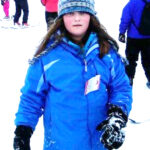 Winter in Montana requires winter clothing.  Approximately 3 in 4 children in YBGR programs are considered low income and many of the kids who arrive at the Ranch do not have any clothing suitable for the cold or snow.
Yellowstone Foundation strives to have a fund available for both the Ranch and Yellowstone Academy to purchase coats, boots, hats, mittens, and scarves as needed for children whose parents may not be able to afford those necessities.
An estimated $2,000 is needed each year just for outdoor winter wear (we often can get wholesale prices).  Help us keep kids warm and safe this winter.