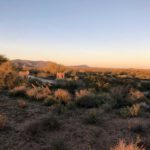 FOR SALE:  Residential Building Lots in Wittman, Arizona, just miles from the Lake Pleasant Regional Park and just a few more from the greater Phoenix area.  This booming community is your opportunity for investment or your dream home!  10 one-acre lots available. 
Visit WestUSA Realty for details or contact WestUSA Realty at 623-512-3601 for more information.  
---
Yellowstone Foundation is offering a beautiful original Montana bronze sculpture at auction. This 1992 work by Montana artist, Ron Herron, is entitled "The Escape" and features three wolves after a moose. The artwork measures 27" high x 40" wide x 18" deep.
The Escape will be featured at Rick Young & Sons Auctioneers' Spring Consignment Auction:
Saturday, June 3, 2023, 10:00 AM
Event Center, 2878 Highway 78, Absarokee, MT
4 miles South of Absarokee, on Highway 78
The June 3rd auction will feature other artworks, farmhouse antiques, farm equipment, boats, bikes and so much more. 
Yellowstone Boys and Girls Ranch Foundation is the owner of "The Escape."  The bronze sculpture was donated to Yellowstone Foundation, and it is our intention to sell the piece for the benefit of the 1,200 children currently enrolled in YBGR mental health programs.
---